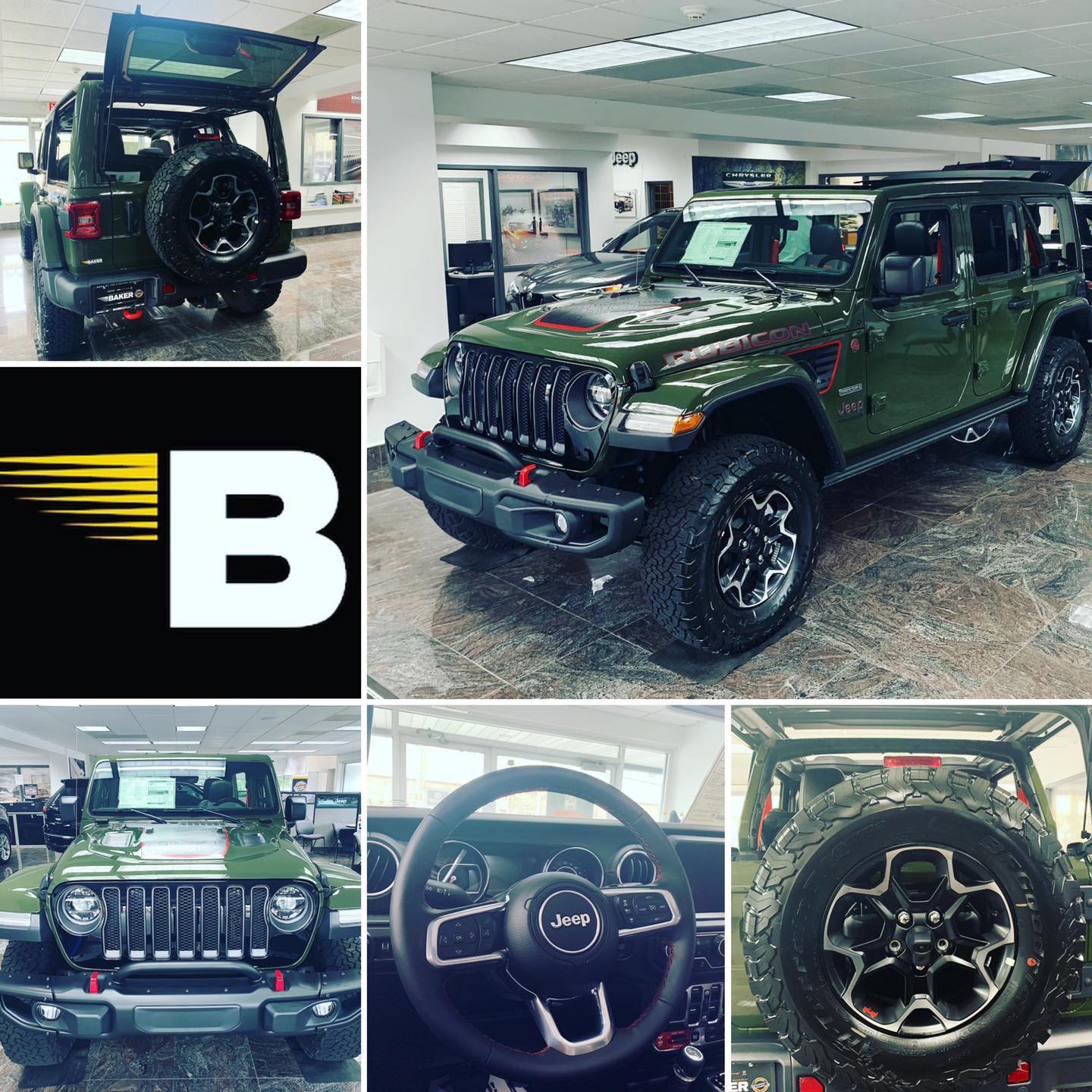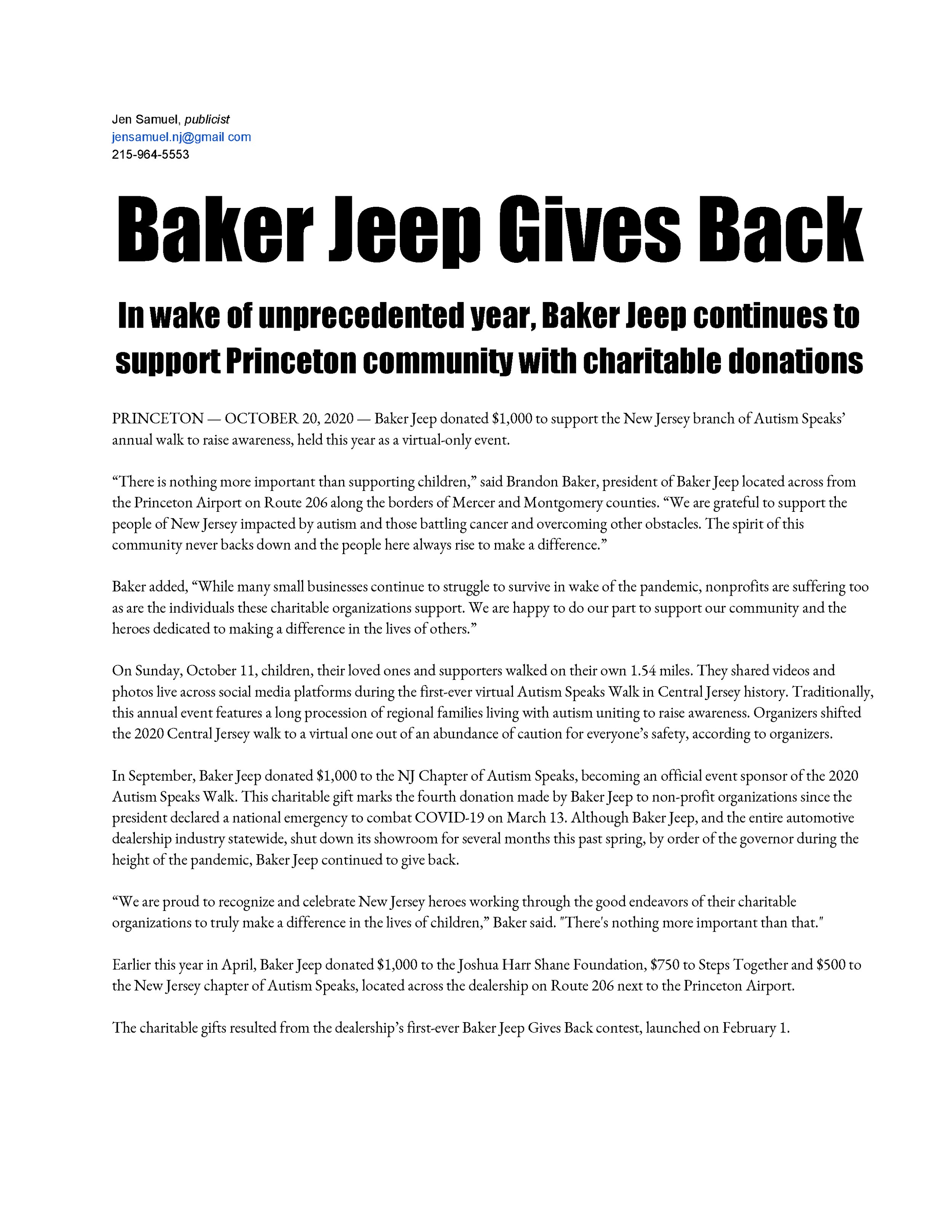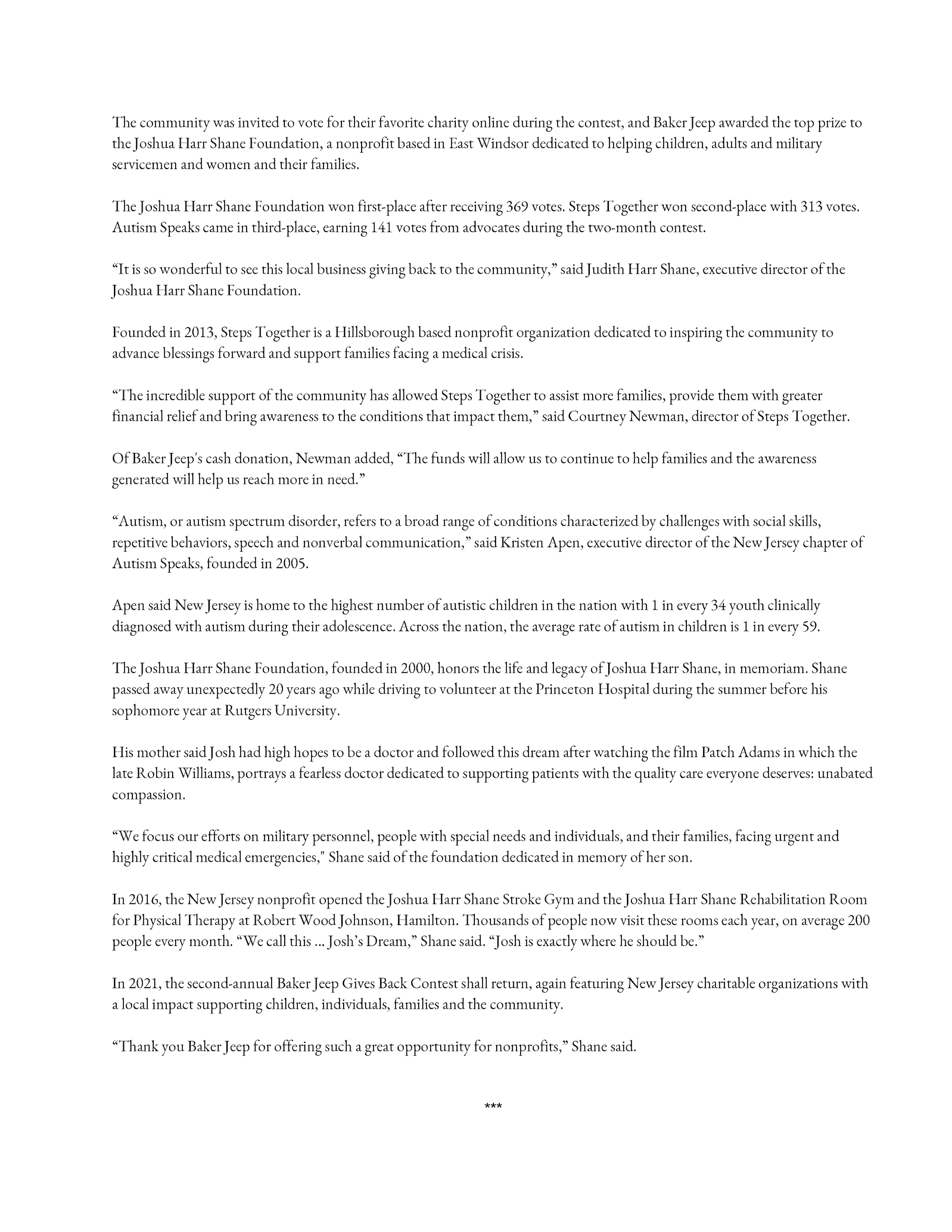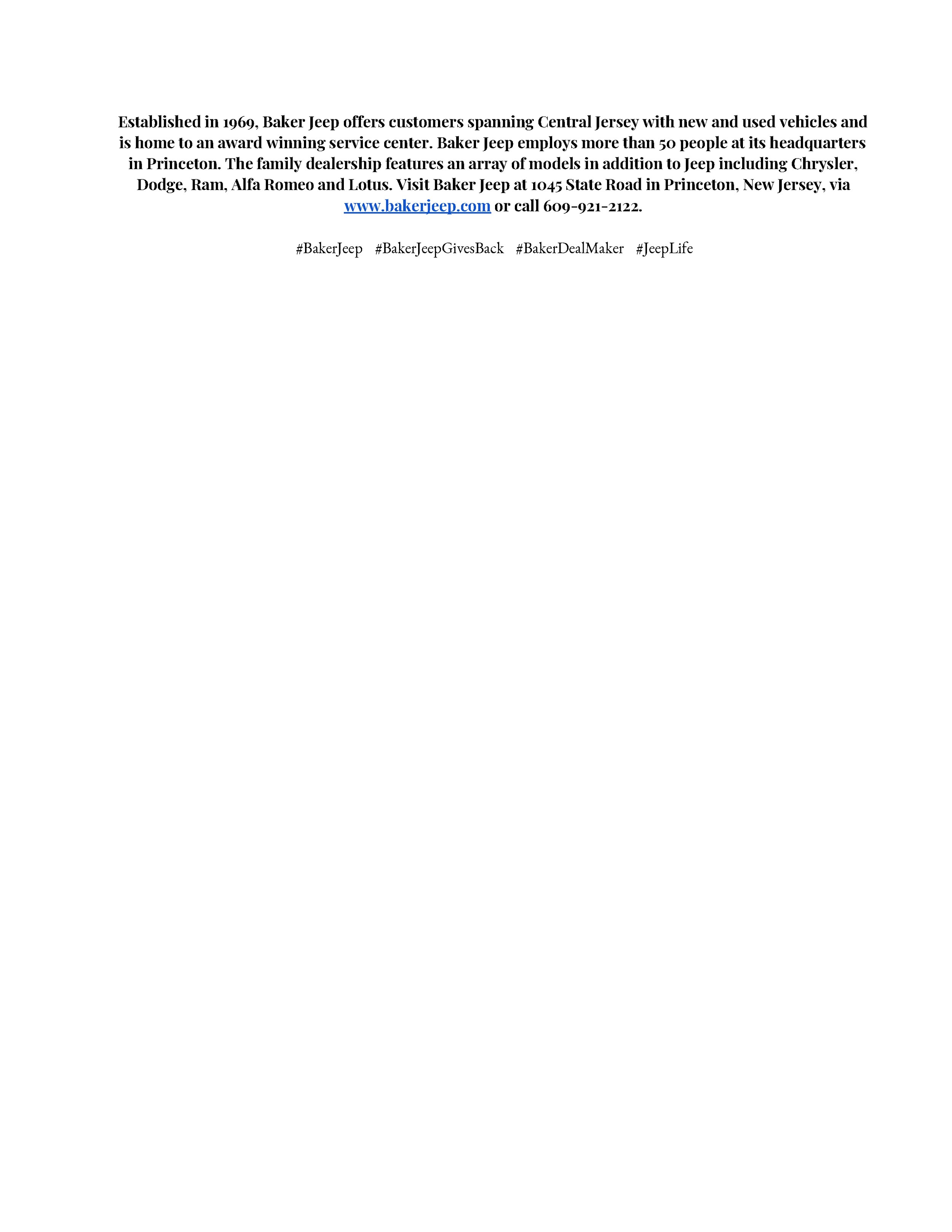 Joshua Harr Shane Foundation wins first-ever Baker Jeep Gives Back contest 
PRINCETON - April 10, 2020 - Baker Jeep announced today that the Joshua Harr Shane Foundation won first-place for its first-ever voting competition to support charitable nonprofits working to help children in Central Jersey. 
"The Joshua Harr Shane Foundation is so excited to be the recipient of the Baker Jeep $1,000 award," said Judith Harr Shane, executive director of the Joshua Harr Shane Foundation. "It is so wonderful to see this local business giving back to the community. What a great way to help nonprofits."
"There is nothing more important than supporting children," said Brandon Baker, owner of Baker Jeep, which employs more than 50 people on Route 206, across the airport, in Princeton.
The initiative, called the Baker Jeep Gives Back program, kicked off in February by selecting three nonprofits working to improve the lives of youngsters. The charities include Steps Together, Joshua Harr Shane Foundation and Autism Speaks. 
Steps Together came in second-place with 313 votes. Autism Speaks came in third-place with 141 votes. The first-place nonprofit, the Joshua Harr Shane Foundation, received 369 votes.
Voting ended on March 31 and fans were invited to vote for their favorite charity by visiting the pinned post on the Baker Jeep Facebook page. 
"We are proud to recognize and celebrate these charitable organizations for truly making a difference in the lives of our children," Baker said. 
Founded in 2013, Steps Together is a Hillsborough based nonprofit organization dedicated to inspiring the community to advance blessings forward and support families facing a medical crisis. 
"The incredible support of the community has allowed Steps Together to assist more families, provide them with greater financial relief and bring awareness to the conditions that impact them," said Courtney Newman, director of Steps Together. 
Steps Together has raised more than $800,00 in direct financial relief via grants to local families. 
"Steps Together is truly honored to be included in this event by Baker Jeep as the funds will allow us to continue to help families and the awareness generated will help us reach more in need," Newman said. 
"Autism Speaks is dedicated to promoting solutions, across the spectrum and throughout the lifespan, for the needs of individuals with autism and their families," Kristen Apen, executive director of the New Jersey chapter of Autism Speaks, founded in 2005. "We do this through advocacy and support; increasing understanding and acceptance of people with autism; advancing research into causes and better interventions for autism spectrum disorder and related conditions." 
She continued, "Autism, or autism spectrum disorder, refers to a broad range of conditions characterized by challenges with social skills, repetitive behaviors, speech and nonverbal communication. Autism affects one in 59 of our children in the U.S. and one in 34 in New Jersey, the highest statistics than any other state." 
The Joshua Harr Shane Foundation, founded in 2000 and based in East Windsor Township, formed to honor Joshua Harr Shane, who passed away earlier that year. 
"Joshua wanted to be a doctor like Patch Adams, giving patients the time and companionship that they needed," said Josh's mom, Judith Harr Shane, who is the director of the foundation. 
"Our mission through our application process is to allow individuals to request assistance and explain their story," Shane said. "We focus our efforts on military personnel, special needs and critically ill individuals." 
The Joshua Harr Shane Foundation has supported the U.S. military since 9/11 including by sending care packages to soldiers in harm's way across the Middle East. The foundation works with Fort Dix and McGuire Air Force Base and was honored by McGuire in 2013 for its charitable endeavors. 
During the past 19 years, the foundation has worked with three regional special needs schools including the Newgrange School, the Bridge Academy and Monroe High School with the intent of empowering students to be proud of who they are and the school they attend, according to Shane. 
The Joshua Harr Shane Foundation also helps families, facing medical calamities, pay for urgent bills, ones that insurance companies fail to cover. "Our goal is to help families during difficult times. We are here to help," Shane said. 
In 2016, the foundation opened the Joshua Harr Shane Stroke Gym and the Joshua Harr Shane Rehabilitation Room for Physical Therapy at Robert Wood Johnson, Hamilton, New Jersey. Each of these rooms see roughly 200 patients per month. "We call this program Josh's Dream," Shane said. "Josh is exactly where he should be." 
Prior to the Corona crisis, a check presentation ceremony was scheduled for April 20, at Baker Jeep, 1045 State Road in Princeton. A new date will be announced soon for all three charities to come together at the dealership to receive cash prizes.  The first-place winner will receive a $1,000 cash prize. The second-place winner will receive $750; and the third-place winning nonprofit will receive a $500 cash donation.
Shane said, "There are only winners," noting that all three charities are  Shane described as "so deserving."
"We thank our supporters for joining together and sharing the completion with their friends and family.  Thanks for sharing the vote. You made this happen," Shane said in reference to the Joshua Harr Shane Foundation's supporters.
She added, "Thank you Baker Jeep for offering such a great opportunity for nonprofits."
*** 
Established in 1969, Baker Jeep offers customers spanning Central Jersey with new and used vehicles and is home to an award winning service center. Baker Jeep employs more than 50 people at its headquarters in Princeton. The family owned and operated dealership features an array of carlines in addition to Jeep including Chrysler, Dodge, Ram, Alfa Romeo and Lotus. Visit Baker Jeep at 1045 State Road in Princeton, New Jersey, or via ​www.bakerjeep.com​. To reach Baker Jeep, call 609-921-2122.
#BakerDealMaker    #JeepLife    #BakerJeep    #BakerJeepGivesBack

Brandon Baker, president of Baker Jeep in Princeton, celebrates the work of local nonprofits honored during the first annual Baker Jeep Gives Back contest alongside Coutney Newman (left), director of Steps Together, and Judith Harr Shane of the Joshua Harr Shane Foundation.